Profi Plus
High-tech quality for extremely precise machining

Premium-brand for precision tools with the highest level of quality
Our Profi-Plus tools have been designed for professional use in industry and trade. They are, however, also suitable for regular drilling work in all prevalent materials. The drills and burrs of our Profi brand are characterised by their precision and long tool life. With these tools, we offer the perfect solution for a wide variety of applications.
Bohrcraft
Robust quality for industry and craft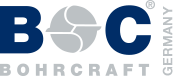 For everyday demands and long-lasting durability
Alongside a wide variety of cutting tools, our private brand Bohrcraft also encompasses a broad range of masonry and woodworking tools. You can be sure of the excellent value for money that our products have to offer, as well as their consistently high level of quality. Here you will find the perfect product for virtually any kind of material.